---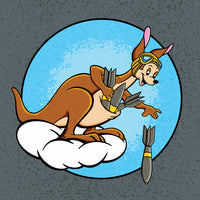 A remastered illustration of the insignia for the 46th Bombardment Group from World War 2

The 46th Bombardment Group was a home-based bomber group that flew a few anti-submarine patrols in 1942 before becoming a training unit.

The group was activated in January 1941 and trained with the Douglas A-20. After the American entry into the war the group flew a number of antisubmarine patrols over the Gulf of Mexico, end in May 1942. Later in 1942 it joined the Second Air Force and then the Third Air Force. As the USAAF expanded the group served as an Operational Training Unit. Late in 1943 as losses began to mount it became a replacement training unit.

In 1944 the group received the B-25 Mitchell, but on 1 May 1944 it was disbanded as were all four of its squadrons.

Printed on 80lb matte cover stock and sent in a flat mailer.