---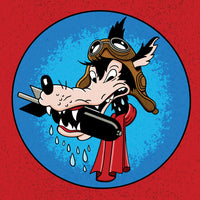 A remastered illustration of the insignia for the 2nd Bombardment Squadron (Sea Wolves) from World War 2

Bombing Squadron TWO (VB-2) was one of the Navy's oldest dive bomber squadrons, a part of Air Group TWO (AG-2), when the Japanese attacked Pearl Harbor on 7 December 1941. Known as the "Highhatters," it was flying SBDs in Lexington (CV-2) and took part in the first air strikes against the Japanese with raids at Lae, Salamaua and Rabaul. During the first five months of the Pacific war, AG-2 sank two Japanese CLs, aided in sinking the carrier Shoho and damaging a second, with VB-2 participating in all actions conducted from Lexington until that ship was sunk at Coral Sea on 8 May 1942. After loss of CV-2, AG-2 and VB-2 were disbanded and returned to the United States.

Shortly before Christmas, 1943, the squadron was loaded aboard a carrier for transportation to the Hawaiian Islands; New Years day found VB-2 stationed at NAS Hilo, Hawaii, and training for a combat assignment continued, sporting a Big Bad Wolf insignia, the squadron then known as "The Sea Wolves."

Printed on 80lb matte cover stock and sent in a flat mailer.