---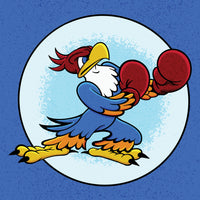 A remastered illustration of the insignia for the Eagle Squadron, R.A.F. from World War 2

Three Eagle Squadrons were formed between September 1940 and July 1941. On 29 September 1942, they were turned over to the Eighth Air Force of the U.S. Army Air Forces and became the 4th Fighter Group. Of the thousands who volunteered, only 244 Americans served with the Eagle Squadrons. Sixteen Britons also served as squadron and flight commanders.

The intensity of operations stepped up with a move into No 11 Group of Fighter Command, being based at RAF North Weald by June 1941. On June 21, 1941, 22 year-old Nathaniel Maranz became the first American pilot to become a prisoner of war when he was shot down by a Bf109 over the English Channel and picked up by a German patrol boat after swimming for an hour and a half. He was a prisoner in Stalag Luft III. The squadron's first confirmed victory came on 21 July 1941 when P/O William R. Dunn destroyed a Messerschmitt Bf 109F over Lille. In August, 71 Squadron replaced its Hurricanes and Spitfire Mk IIs, before quickly re-equipping with the latest Spitfire Mk Vs. The unit soon established a high reputation, and numerous air kill claims were made in RAF fighter sweeps over the continent during the summer and autumn of 1941.

Printed on 80lb matte cover stock and sent in a flat mailer.