---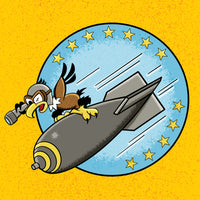 A remastered illustration of the insignia for the 75th Bombardment Squadron from World War 2

Established as a pre-World War II GHQAF bombardment squadron, it was equipped with Douglas B-18 Bolos and early-model Martin B-26 Marauders. After the Japanese attack on Pearl Harbor, the squadron was engaged in anti-submarine operations over the mid-Atlantic coast. It was reassigned to the Third Air Force, but it deployed with the Fifth Air Force in Australia in 1942 as part of the re-equipping of that command, following the 1941–1942 Battle of the Philippines.

The squadron attacked enemy forces in the Philippines during early 1945 as part of the liberation from Japanese control; it continued combat missions until the Japanese capitulation in August 1945 and became part of Fifth Air Force in Occupied Japan in 1946 before being demobilized and inactivated in May 1946.

Printed on 80lb matte cover stock and sent in a flat mailer.