---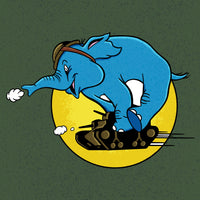 A remastered illustration of the insignia for the 751st Tank Battalion from World War 2

The 751st Tank Battalion was activated at Fort Benning, Georgia, on June 1, 1941. It was then moved to Fort Knox, Kentucky, where the battalion was training when the Japanese attacked Pearl Harbor on December 7, 1941. Churchill was impressed with the battalion and wanted it in England to help protect the British Isles from a Nazi invasion. On January 8, 1943, the 751st boarded ships once again and sailed for Oran, Algeria, where they would help reinforce the Allied forces of Operation Torch that had landed in Africa a couple of months earlier. Their first real taste of combat came in early April of 1943, when the battalion, attached to the 34th Infantry Division, attacked the Germans at Fondouk el Okbi in Tunisia.

Printed on 80lb matte cover stock and sent in a flat mailer.