---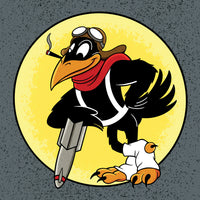 A remastered illustration of the insignia for the 379th Bombardment Wing from World War 2

The 379th Bombardment Wing traces its history back to 1942 when the 379th Bombardment Group was established November 3rd at Gowen Field, Boise, Idaho. For the first four months it was occupied with flight training in the B-17. On May 1943, the 379th Bomb Group was assigned to Kimbolton, England, where it was stationed for the next two years.

The group was awarded the Distinguished Unit Citation for its raid on Oschersleben, Germany, Jan. 11, 1944, and a second award on the citation for "extraordinary heroism, determination and 'esprit de corps' in action against the enemy from May 29, 1943 to July 31, 1944".

The 379th Bomb Group also earned seven battle credits during its 23 months of combat. On July 15, 1945, the 379th, by then transferred to Air Transport Command, was deactivated at Casablanca, Morocco.

Printed on 80lb matte cover stock and sent in a flat mailer.