---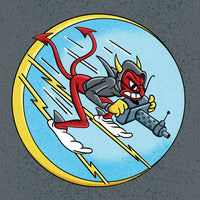 A remastered illustration of the insignia for the 337th Fighter Squadron from World War 2

Activated in 1942 at Keflavik, Iceland, equipped with Lockheed P-38 Lightnings. Mission was to intercept and destroy German planes that on occasion attempted to attack Iceland or that appeared in that area on reconnaissance missions. Returned to the United States in November 1942 as a IV Fighter Command Lightning Replacement Training Unit (RTU). Trained P-38 pilots in California and Washington State until phaseout of Lightning training in March 1944.

Printed on 80lb matte cover stock and sent in a flat mailer.