---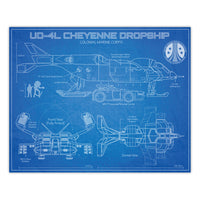 Highly detailed blueprint style of schematics for the UD-4L Cheyenne Dropship deployed by the Colonial Space Marines. Most notable deployment was during the Xenomorph Incident involving the Weyland Yutani Corporation on the rescue mission for colonists on Acheron LV426.
Printed on 80 pound Matte Card Stock and shipped flat in a mailer
Note: Not an actual blueprint.